"Tacos 'N Tequila" Mexican Restaurant 
"Indoor and outdoor dining, as well as take out all year round"
From Tacos, Enchiladas and Chimichangas, Flan and Churros, We have Food for Everyone: Gluten free, Vegetarian, Vegans and Meat Lovers.  
Authentic And Delicious Mexican Cuisine!
Tacos

Corn Soft Tortillas with Your choice of filling: Beef, Pork, Vegetarian.

Bistec Ranchero

Beef, tomatoes, onions and jalapeno peppers cooked in a stew like dish, served with rice and beans.
Chicken Enchiladas

Corn tortillas rolled around chicken and covered with a warm chipotle sauce. Served with Mexican rice and beans. 

Baja Tacos

Crispy beer-battered white fish (or shrimp) tucked into corn tortillas, topped with a cabbage slaw, fresh salsa and smoky chipotle mayo.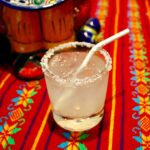 We have a selection of Tequilas and a variety of Cocktails made with Tequila or Mezcal. 
Our Igloos are used outside in the wintertime and allow you to eat outside even on the coldest and snowy days!